Today is Friday so Alex and I have 7 days remaining before we head back home. Today it was raining when I woke, which is abnormal for GL. The clouds are really low and hide the mountain tops, which make for a somewhat ominous scene. The temperature is 55 degrees so that's nice.
Made this video the other day on one of my walks by Shadow Mountain Lake. It connects to Grand Lake, but isn't near as deep. Still beautiful. Still walking 2.5 miles almost everyday. My back is feeling good.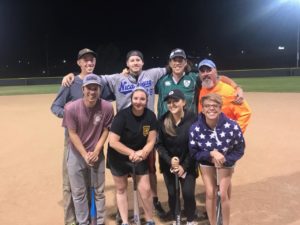 The picture is a group of people we've been hanging out with over the summer. We do trivia, karaoke, and softball. Last Monday I pitched my very first game of softball and did fairly well (only 6 walks). We got stomped, but had alot of fun playing. Very grateful for friends!