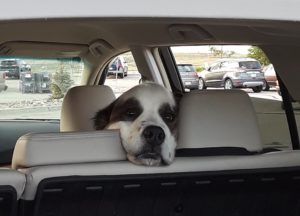 Alex and I lost Sutton yesterday. The grief we are experiencing is still raw, as the loss was unexpected and too soon. We were laying with him when he passed, which was bitter sweet. I'm so glad we were there. As I sit in my study this morning, I wanted to write down some thoughts about this chunk of our lives that, in some ways, disappeared yesterday. So I decided to write it in the form of a note to Sutton.
Dear Sutton or "Shbeing,"
We had the privilege of adopting you over 8 years ago. You were a little over 2 years old when fate brought us together. We adopted you in Lake Zurich, IL, a fairly forgettable city, except for you. At the time, we still had Champ and Finn, our two golden retrievers. Champ was up in age and having considerable physical troubles so we wanted to have a friend for Finn, as we didn't know how much longer Champ would be with us.
I'll always remember two things the day we adopted you. The first was how beautiful you were. Yeah, I know you never bragged about your good looks, but those who met you will back me up on this. First, you were so big. I'll admit that I was quite intimidated when I first approached you. And your beautiful white, brown, black markings…just beautiful. The second thing I'll never forget was how the woman who was fostering you cried when you got in our truck. I distincly remember her saying, "He's just such a special dog." She was sure right. You were special.
That said, your split personality took some getting used to. Yes Sutton, you had a split personality. Our first couple of months in Delavan were memorable, if not a bit worrisome. You were extremely barky (this never stopped) and were VERY territorial of ANYTHING walking within 40 yards of our property (never stopped). I remember being concerned at the thought of taking you to CO that summer, as we hoped you woudn't act similarly in Grand Lake where there would be tons of people walking around daily. Our fears dissolved when we realized that you were a tedd bear as soon as you drove away from our home. You showed everyone love while they oohed and aahed over you. You were arguably the most popular dog in Grand Lake in the summer for years. And definitely a "Gentle Giant."
You were such a lover. You know you're buddy Niles, one of our cats will miss you. You and he were such buddies, although I'd say you tolerated him well sometimes when he'd annoy you. Of course Fraser, our other cat will miss you too. I must tell you that Axel, your neighbor dog friend sat by the fence last night staring toward your trolley, seemingly waiting for you to come outside. And your two girlfriend dogs next door will miss you as well. We will certainly miss seeing you out on the trolley toward the back of our house standing guard or mayby just talking with Axel and your girlfriends. Probably a bit of both.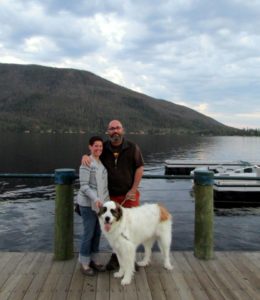 Sutton I want you thank your for enriching our lives. I know we treated you like a king during our time together, but we were the lucky ones. I hope I never forget the following things about you: (1) The way you would nonchalantly mosey into the kitchen with those sad eyes whenever anyone took the plastic wrap off of a piece of sliced cheese; (2) Your "I want to go outside" dance (Click HERE to watch); (3) Your fear of bad weather; (4) Your dislike of the postman; and (5) Your love of people and other animals.
Thanks again for the enriching our lives!
On patrol in our backyard